Hohe Tauern National Park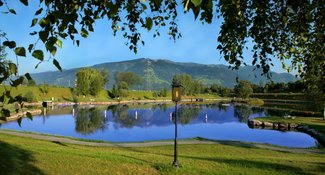 The Hohe Tauern National Park promises an exciting holiday in the beautiful Salzburg Region. Explore the Zell am See-Kaprun Region up to Mittersill with the Pinzgauer local railway, enjoy the water of the Krimmler Waterfalls from numerous lookouts or refresh yourself with a Pinzgauer snack at the Trauner Alm.
Hohe Tauern National Park
The National Park established in 1981 is the largest nature reserve in the whole of the Alps with its area of 1.834 km2. It is characterized by the highest mountains of Austria, Großglocknerand Großvenediger, large glaciers, green high countries, impressing rock faces and thundering waterfalls. Sportcamp Woferlgut, with its central location, is the optimum place to explore the Zell am See Region up to Mittersill by the Pinzgauer local railway.
Großglockner Experience World
Großglockner is the highest mountain of Austria, standing 3.798 m tall. The fascinating peak has got a new dimension thanks to the Großglockner Hochalpen Road. In 2010, the Hochalpen Road celebrated its 75th anniversary. The Großglockner Experience World ranks among the three top attractions of Austria with 900.000 visitors a year. The Großglockner Hochalpen Road is a secret tip for nature lovers, cyclists and motorcyclists.
Tauern power stations & alpine dam lakes
Get information about the world of the glaciers and the history of power station construction in the "Power & Ice Experience World". The smallest guests can learn more about the unique combination of technology and nature at the Tobi-Turbi children's path.
Krimmler Waterfalls
Follow the hiking path created by the Austrian Alps Association (Österreichischer Alpenverein, OeAV) and admire the fascinating nature show. The Waterfalls with a fall height of 380 m are the fifth highest waterfalls of the world and with about 350.000 yearly visitors rank among the most visited sights in Austria. Enjoy the water of the Krimmler Waterfalls from numerous lookouts.
Ferleiten Wild and Recreation Park
The Wild and Recreation Park promises you a fantastic panoramic view of the most beautiful valley Austria. At about 15 hectares, the park contains more than 200 animals endemic to the Alps. The young visitors will have no limits on play and fun in the 20.000 m2 park.

› more info...
White Sea pistes and glacier world in Uttendorf
The alpine holiday world in the beautiful Salzburg Region is anunforgettable experience for the whole family. Skiers, cross-country skiers and snowboarders will find everything their heart desires on the 21 kilometres of well-prepared slopes and several kilometre-long ski slopes.
Trauner Alm
The Trauneralm is situated in the middle of the Hohe Tauern National Park and is surrounded by 15 three-thousand meter high mountains. It was built by Johann Mayr in 1890 and has been managed in traditional style until the present day. Enjoy thebeautiful panoramic view and the varied fauna and flora in thisunique natural landscape. Trauneralm will refresh you with ample Pinzgauer snacks.