All-inclusive facilities and services
"All-inclusive" in hotel, apartments & camping

Many of the outdoor, sports, leisure and recreation facilities included
Free
3 tennis courts including equipment
Well-maintained outdoor clay courts in a dreamlike location. As a guest at Sportcamp Woferlgut, you can use the tennis courts and rent tennis equipment free of charge. This service includes tennis rackets and balls for young and old. Ask about the regular tennis tournaments.
One of the highlights of Sportcamp Woferlgut near the holiday region of  Zell am See-Kaprun is the 15.000 m² large bathing lake, offering 100% bathing pleasure to our guests exclusively and free of charge. Take a sunbath on our terraced lying area or on the nice lawns. Use also the huge "Aquajump" in the middle of the lake to cool down. Our private island, which can be easily reached via our swimming pier, is also located there. You can take deep dives into the waters of the lake directly from the pier or you glide slowly into the waters by using the facilities installed for entry.
Our low ropes course is an obstacle course made of tree trunks and ropes, beautifully embedded at our bathing lake and our Kneipp stream. The course consists of 20 stations with different obstacles such as suspension bridges, trembling beams, slacklines, rope loops, flying board and much more and offers balancing fun for young and old. The low ropes course promotes balance, strength, dexterity and spatial orientation. Of course it takes a bit of overcoming, but don't worry - you move at jumping height (approx. 60cm) above the ground.
No Risk. Great Fun. Also offers our long slackline across the bathing lake to our bathing island.
Kneipp facility and play stream
Kneipp, dew walk in the morning, relax by the stream or for all the children really romp around. The play stream for all children and Kneipp stream for the adults at Hotel Woferlgut & Camping Sportcamp in Bruck near Zell am See - Kaprun is perfect for this. Tingly fresh, cool mountain water flows around your legs and has a pleasantly stimulating and massaging effect.
Hobby room with TV, table tennis
The Fun & Action recreation room offers everything that is fun for the young and the young at heart: table tennis, billiards, speedball, air hockey, table football and many other devices. In addition, the chill-out area with the big-screen TV invites you to linger.
Children's films in the "Pirate Ship Children's Cinema"
Children's playgrounds with large climbing towers
Frolicking on the playgrounds - a popular meeting place for kids and parents.
Indoor children's area with climbing wall, ball pit, craft room, baby corner
Free child care mid-May to mid-September and Easter
Pinzgauer farmhouse parlor with library
From May to October and Christmas to Easter
Beach volleyball court, football pitch
Free guided mountain and biking tours
With its location directly on the Großglockner, 80 km south of Salzburg, directly near Zell am See and directly on the Tauern Cycle Path, the Sportcamp is the ideal starting point for racing cyclists. Guided tours are regularly on the programme and if you have always wanted to do the Austria Iron Man, Glockner, Piller See round - the opportunity is waiting here!
Look forward to music evenings and events.
Away from the fantastic pistes, we have placed special emphasis on our cross-country skiing network. The cross-country ski trail, which starts directly at Sportcamp Woferlgut, is professionally maintained. If you have never stood on cross-country skis before - at Woferlgut you have the unique opportunity to learn how to do so. Mandi, our guest supervisor, will train you professionally and also give advanced skiers plenty of tips.
Ski service and shoe drying rooms
You can buy your ski passes directly at the reception. Ski school information and registration daily at 7.00 pm at the reception. Ski rental at Hotel Lukashansl.
Timetables can be found in the showcases, the ski and boot rooms and at reception. In addition to the free ski bus service, we will also take you to the Areit and Maiskogel cable cars with our shuttle bus for a small fee. 
Internet surfing stations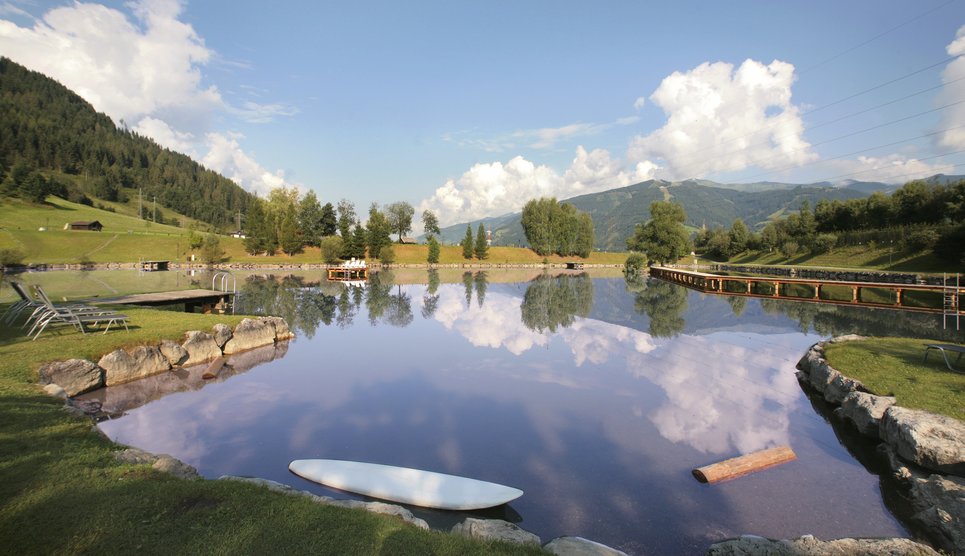 1 / 4
Bathing lake (15.000 m²)
Take a sunbath on our terraced sunbathing area or in the beautifully landscaped green spaces.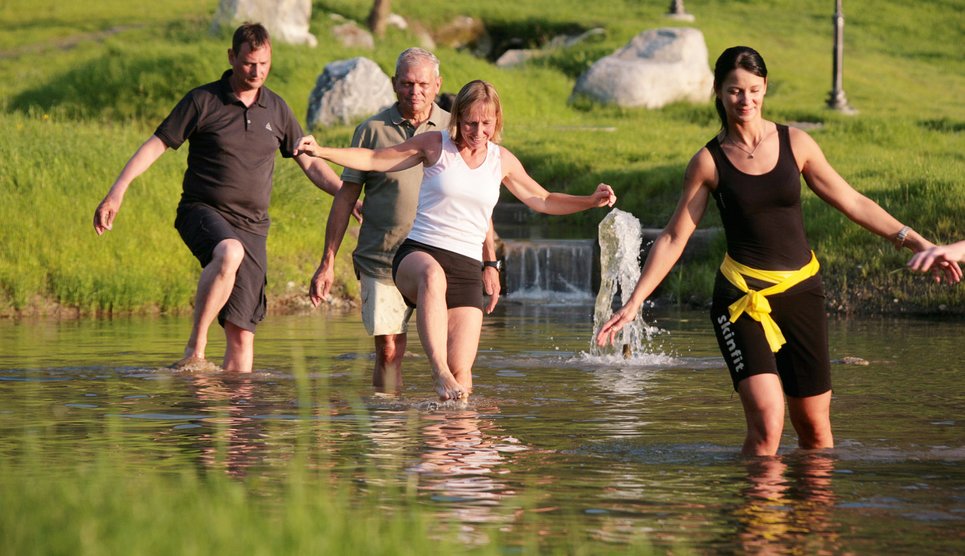 2 / 4
Sports care
From May to October and Christmas to Easter, as well as free accompanied mountain and bicycle tours.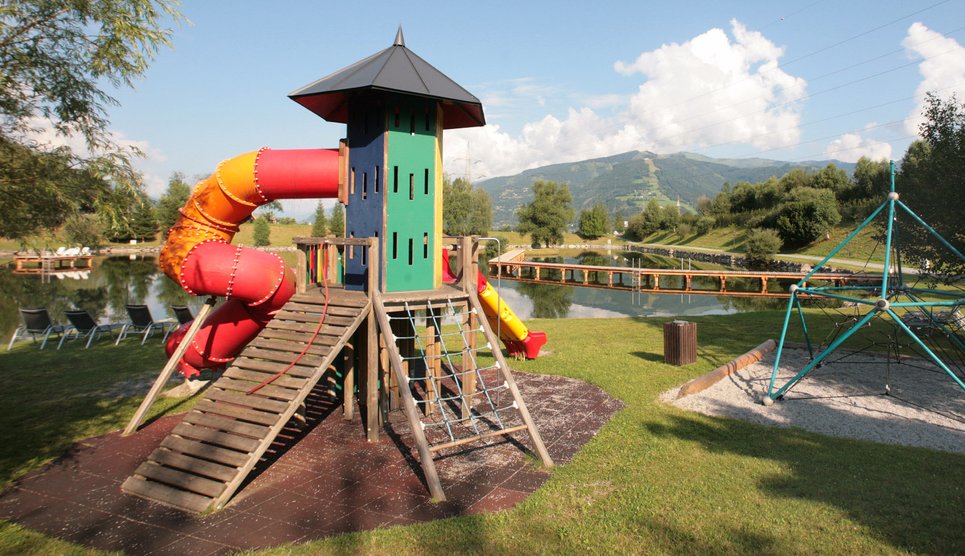 3 / 4
Kids Club
(mid-May - mid-September and Easter)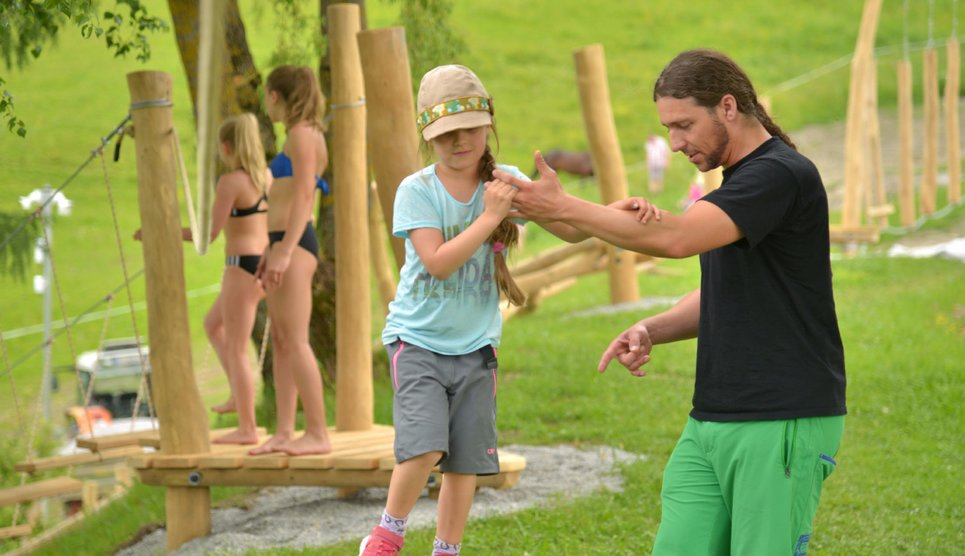 4 / 4
Low ropes course
Our low ropes course is an obstacle course made of tree trunks and ropes
For a fee
Bathing worlds with fitness studio as well as wellness area (guests hotel / pension included)
The bathing world on 4,500 m² with 5 pool facilities is a paradise for water rats. It is ideal for sports training sessions, families and wellness lovers. The 50 m sports pool with 2 lanes (heated) also creates the best conditions for swimming camps.
Massages and physiotherapy
Read more about massages and the Woferlgut Private Spa Packages here.
Read more
Trekking Bikes whole day € 18,- | ½ day € 11,-
Mountain bikes whole day € 25,- | ½ day € 18,- | from 5pm € 10,-
Children's bikes full day € 15,- | ½ day € 8,-
(Half day: either 08.00 - 13.00 or 13.00 - 20.00 | full day: 08.00 - 20.00)
Special offers: pay 6 days = cycle 7 days or pay 11 days = cycle 14 days
E-bike rental: ask for the regional providers
Billiards & Slot Machines
Our 12-lane facility provides play, sport and fun for the whole family. The varied course is open daily from spring to autumn from 10 am to 10 pm. Especially in the evening, our illuminated course is a lot of fun. Come by and master the course with as few strokes as possible.
In addition to the free ski bus service, we will take you to the Areit and Maiskogel mountain lifts with our shuttle bus for a small fee.
Free for hotel guests
with rich breakfast buffet, snack buffet between 14:00 and 16:30, 4-course menu of choice with weekly theme evening (Italian or BBQ)
Free access to the unique bathing worlds with 5 pools and wellness area
Free for guests of the pension
Rich breakfast buffet in the Woferlgut Restaurant
Free access to the unique bathing worlds with 5 pools and wellness area