Wellness & Massage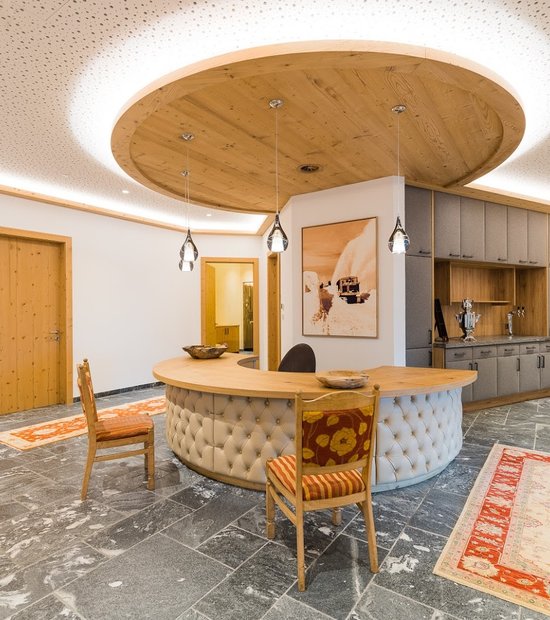 Our inviting wellness area takes body and soul on a journey of relaxation. The heart of the "Fountain of Youth": the extensive range of massages. It is the right answer to all tension problems and guarantees the right treatment. From special massages to complete treatments, from mud packs to lymph drainage.
MassageS

Duration
Price

Classic partial massage

Fascia treatment on the back or legs. Loosens adhesions & stimulates circulation.

aprox. 25 min.
€ 49,00

Classic full body massage

Loosens & revitalizes the entire musculature. Releases new energies & increases well-being.

aprox. 50 min.
€ 75,00

Foot reflex zone massage

Targeted treatment of the reflex zones with harmonizing effect for the whole organism.

aprox. 25 min.
€ 49,00
Mud pack and partial massage


Natural mud pack to stimulate blood circulation and relieve back tension, rheumatism and lumbago.  A soothing combination for relaxation.
The mud pack prepare the back for the massage. 

aprox. 50 min.
€ 75,00

Face and neck massage

Pure relaxation through gentle caresses combined with trained massage strokes and stretches.

aprox. 25 min.
€ 49,00
Traditional Nuad Thai massage


Passive yoga with gentle stretches and rhythmic pressure
movements to increase well-being. Please wear sportswear
to your treatment!

aprox. 50 min.

€ 85,00

80 min. € 136,00

Full body lymphatic drainage

Rhythmic massage with purifying effect & additional strengthening of the immune system.

aprox. 50 min.
€ 85,00
Breuss massage


Energetic back massage with St. John's wort oil for regenerative effect on intervertebral discs & spine.

aprox. 25 min.
€ 55,00

Dorn-Breuss therapy

Gentle spinal therapy with treatment of possible hip misalignment. Helpful for spinal blockages.

 aprox. 50 min.
€ 85,00
80 min. € 136,00
Exclusive wellness oasis for relaxing moments: Woferlgut Private Spa Packages
Experience an unforgettable pampering program for two. Our private spa is equipped with Finnish sauna, large whirlpool, rain shower and comfortable relaxation lounger, bathrobes and towels on loan for the duration of your stay, plus refreshing fruit and 1 bottle of Prosecco. Juices and teas are available at the wellness bar.
Choose from four packages:
Private Spa Packages

Duration
Price

I "COMFORT"

2,5 hours time out together in the "Private SPA" for 2 persons

aprox. 150 min.
€ 155,00

II "DELUXE"

4 hours time out together in the "Private SPA" for 2 persons

aprox. 240 min.
€ 195,00

III "DELUXE PLUS+"

4 hours time out together in the "Private SPA" for 2 persons,

including 2 partial massages of 25 minutes each

aprox. 240 min.
€ 293,00
IV "EXCLUSIVE"


4 hours of time out together in the "Private SPA" for 2 persons,

including 2 partial massages of 25 minutes each and afterwards a 4-course surprise dinner in the restaurant

aprox. 240 min.
€ 389,00